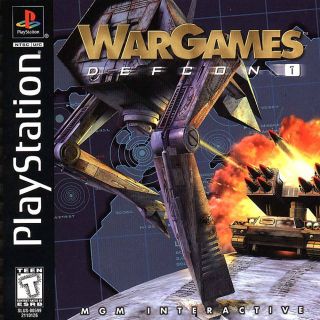 Baixar WarGames Defcon 1 PS1 ISO Download
Baixar WarGames Defcon 1 Playstation 1 ISO Download
Baixar WarGames Defcon 1 Play 1 ISO Download
WarGames Defcon 1 para PS1 é um jogo de ação, desenvolvido pela Interactive Studios Ltd. e publicado pela MGM Interactive, lançado oficialmente dia 30 de Junho de 1998, disponível exclusivamente para Playstation 1, jogo recomendado para maiores de 13 anos.
WARGAMES: Defcon 1 is a game that takes the story from the popular movie and translates it into an action game for the PlayStation. There are 30 missions to play 15 each for the opposing sides. The player must guide a vehicle through each level and destroy the enemies that interfere, and there are plenty of vehicles to choose from, including jeeps, tanks, helicopters, and jets. Each mode of transportation has different abilities, so some are better suited for certain levels. Once the single-player experience has been completed, gamers can also choose to compete in the two-player Battle mode. This pits two people against each, while the Cooperative mode allows to people to join together to attack the enemy. The sound effects come straight from the movie, combining with the music to create an exhilarating experience that any action fan with appreciate.
Desenvolvedora : Interactive Studios Ltd.
Publicadora : MGM Interactive
Data de Lançamento : 30 de Junho de 1998
Modo de Jogo : Offline
Classificação Indicativa : Para maiores de 13 anos